General admission requirements
As an international student completing one of the following qualifications, you will apply for admission through UAC and will generally be selected on the basis of your performance in these studies (ie your ATAR or equivalent):
an Australian Year 12 qualification (either outside or in Australia)
an International Baccalaureate (IB) Diploma
a New Zealand National Certificate of Educational Achievement (NCEA) Level 3.
When assessing your application, La Trobe University may take any or all of your qualifications or attempts at study into account.
La Trobe University has a pathway for admission that may allow applicants to receive an offer to a course even though they have an ATAR or equivalent below the selection rank. For some courses, La Trobe will reward strong performance (Band 4 and above) in Year 12 subjects relevant to the course of study — check details in the course descriptions via the course search.
Limited ATAR
The University accepts the Limited ATAR for admission purposes.
Additional selection criteria
In addition to achieving the standard of performance required for admission, for certain courses you must also satisfy any additional selection criteria, such as a personal statement, a questionnaire, a portfolio of work, an audition, an interview or a test. These criteria are taken into account either instead of, or in conjunction with, your ATAR or equivalent. Details of additional selection criteria and how applicants can meet these requirements are outlined in the course descriptions via the course search.
If you are undertaking your Year 12 studies offshore and are applying to a course that has additional selection criteria that you will find difficult to meet, contact La Trobe University.
Fees
Tuition fees for international students are based on the standard annual 120-credit point load for each course unless otherwise stated. In some courses, or due to study load variations, semester loads may vary above or below the standard credit point load. Students will be invoiced for fees based on their actual credit point load per semester. Your tuition fee deposit will be advised in your Letter of Offer. Tuition fees are subject to change each year.
General information for La Trobe University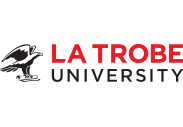 Other scholarships & schemes