Build your future career with La Trobe University. For more than 50 years, we've supported students just like you to gain the knowledge, confidence and human skills needed for a successful career. Some of our most inspiring graduates are now CEOs, parliamentarians, human rights activists, medical researchers and Olympians.
When you study at La Trobe, you'll get a globally-recognised student experience. We're ranked in the top 1.1% of universities worldwide*, and we're rated well above world standard in 23 fields of research**. Plus, with our Career Ready program, you'll develop the professional, technical and human skills employers are looking for. It's everything you need to succeed.
Practical experience is also vital. Work Integrated Learning is integrated into many of our courses, allowing our students to take placements with major organisation's and our many hospital partners.
Advanced learning facilities such as our Upstart Media Hub, finance trading room and on-campus clinics, enable our students to put the theory they learn into practice.
With over 150 international exchange partnerships, we encourage our students to take part in our global Study Abroad programs. Locally, we've built a culture of diversity across our campuses in Melbourne, Bendigo, Albury-Wodonga, Mildura, Shepparton and Sydney. We offer more than 90 clubs and societies that cover almost every social, sporting, cultural, academic and political interest you can imagine.
Studying at La Trobe prepares you for more than a career. We help students turn their goals into achievements and their passions into fulfilment.
La Trobe student cohort profile
* Times Higher Education World University Rankings 2020; Ranking Web of Universities 2019 (Spanish National Research Council)
** Excellence in Research for Australia Outcomes 2018 (Australian Research Council)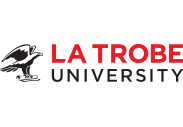 Other scholarships & schemes