UNSW Sydney is an internationally acclaimed teaching and research powerhouse that provides students with a learning experience packed with academic programs, extra-curricular activities and educational services.
As one of the world's top 50 universities, UNSW boasts academics who are global leaders in their fields, while its students enjoy access to world-class facilities, interact with industry leaders and apply the latest research to real-world situations.
UNSW offers students a wealth of opportunities beyond the classroom, enabling its graduates to build their future career. An extensive range of Work Integrated Learning (WIL) units are available to give students first-hand industry experience and gain credit towards their degree.
UNSW's 3+ academic teaching calendar, made up of three 10-week teaching terms and an optional intensive Summer Term, offers flexibility and time for students to pursue professional development opportunities in Australia and around the globe.
UNSW has a proud tradition of sustained innovation, focusing on areas critical to our future – from climate change and renewable energies to lifesaving medical treatments and breakthrough technologies. In the social sciences, UNSW research informs policy and expert commentary in key issues facing society, ranging from human rights and constitutional recognition of Indigenous Australians to public health and population ageing.
UNSW offers an extensive range of undergraduate, postgraduate and research programs. We attract talented students from across Australia and around the world. Our 60,000-plus students come from 128 countries, making us one of Australia's most cosmopolitan universities. Our emphasis on quality continues to push up entry standards with record demand from the state's top school leavers.
The main UNSW campus is located on a 38-hectare site at Kensington, seven kilometres from the centre of Sydney. Other major campuses are UNSW Art & Design in Paddington and UNSW Canberra at the Australian Defence Force Academy.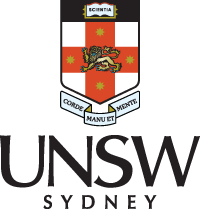 Other scholarships & Schemes