Student Lifestyle Report 2023: UAC report
25 Jul 2023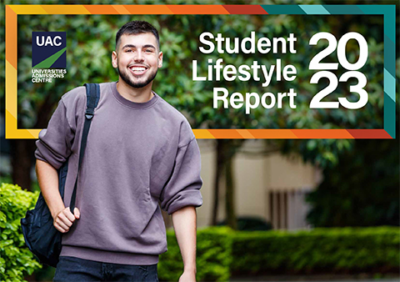 Executive summary
UAC's third annual Student Lifestyle Report presents a unique view into the thoughts, behaviours and feelings of school leavers starting their first year of university.
Over 14,000 Year 12 students from across Australia were surveyed about a range of issues, including education, mental health, technology, social issues, employment, and personal values. The preferences and behaviours of these young adults will increasingly shape the future of society, commerce and politics.
Authentic student voices are used throughout to complement the data and reveal what students are considering as they begin their tertiary education against a backdrop of mounting cost-of-living pressures and a job market undergoing rapid transformation.

Understanding what motivates students and giving them a voice through this report is part of UAC's ongoing commitment to supporting the leaders, creators and thinkers of tomorrow.