Established in 1983, Excelsia College is one of Australia's leading Christian higher education providers based in Macquarie Park. We are an innovative and creative community of people who are passionate about excelling and growing academically, professionally, personally and spiritually. We offer a variety of courses across business, counselling, creative and performing arts, education and social work. Our students and alumni embark on a journey of lifelong learning and leadership.
Excelsia is a community where people excel, are inspired and challenged by our motto 'Participare Lumen' (Share the Light) to benefit our world as we share the light of Christ and benefit of higher education within the world. Our educators seek to walk alongside each student on their unique and individual learning journey. With smaller classroom settings, students get to know their classmates and lecturers better and become part of the community.
Excelsia promotes and fosters quality in teaching and learning through the implementation of our vision, mission, and institutional values. We provide academic skills support and pastoral support in the form of Mission Engagement Coordinators as well as free counselling services to our students. We also run student-led events throughout the year coordinated by our Student Representative Council (SRC).
In the 2022 QILT Student Experience Survey (SES), 83.1 per cent of undergraduate students had a positive overall experience, higher than the national average of 75.9 per cent. Excelsia College has also achieved great results in undergraduate skills development, rating at 88.9 per cent, and teaching quality, rating 88.6 per cent..
We are proud to have over 58 nationalities represented at our College, including the Philippines, Singapore, Nepal and India. Over 80 per cent of our students speak a language other than English.
Within many of our courses, students undertake practical training in the form of placement opportunities so they can go out as confident, innovative individuals prepared to make a difference in their selected field.
CRICOS provider number: 02664K
TEQSA provider ID: PRV12064
General information for Excelsia College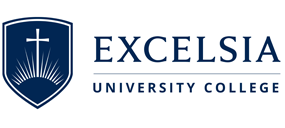 Location