We are Australia's best-kept university secret; one of the newest but with a pioneering history and now ranked number one by the people who matter—you.
We are one of Australia's newest universities but our history of providing quality higher education that improves lives goes back more than 125 years. While we may be smaller than other universities, we have a big reputation for quality of education experience, with the Good Universities Guide and the federal government's QILT ranking recognising the excellence of our courses and graduates.
Top-ranking university
We teach exceptionally—not everything.
We want every student to have an exceptional experience. That's not just having a good time meeting other students but also building experiences relevant to your future career—with great lecturers and opportunities to learn on the job through work placements as part of your degree. Our staff members have a deep commitment to engaging with students and helping you discover and fulfil your potential.
We don't teach all courses but focus on delivering courses where we are confident you will have the best experience. We are proud to provide high-level, individual teaching and support, with easy and regular access to lecturers and small class sizes so you can get the most out of your study.
Students, graduates and employers all recognise the quality of our courses in nursing, teaching, business, ministry and theology and counselling. We offer the best learning resources, skill development, student support, teaching quality, undergraduate learner development and overall student experience in New South Wales.*
We are renewing our curriculum, renovating our campuses and reshaping our approach to community engagement because our focus is on quality and impact. We want to make measurable improvements to your life and the life of those you love through our education and research.
Pathways for you
Whether you're looking to challenge yourself with vocational training, take the first step with undergraduate study, broaden horizons with a master's degree or join a growing higher degree by research community, we have a path for you. Choose from courses across Arts, Business, Lifestyle Medicine, Nursing, Ministry and Theology, Outdoor Leadership and Teaching. And make new friends, help the community and learn to lead with a wellbeing program for new students. With up to $600,000 in scholarships, we can help with your fees.
Student life
Studying at Avondale is unlike that at any other university. Students love the green, natural environment of our Lake Macquarie campus and the easy access to state-of-the-art health facilities and practical learning environments of our campus at Sydney Adventist Hospital. But it's about more than just attending classes in productive spaces. Sharing life with friends, receiving genuine care from lecturers, participating in service-oriented activities and growing your faith in a supportive environment makes your Avondale experience unique. This sense of belonging stays with you long after you graduate.
A pioneering heritage
As a university established by the Seventh-day Adventist Church in 1897, we're proud of our pioneering heritage as a provider of higher education that improves people's lives. We welcome students from all faiths and walks of life and create opportunities that build on their aspirations, values and capabilities.
Avondale University student cohort profile
CRICOS provider number: 02731D
TEQSA provider ID: PRV12015
RTO: 91191
General information for Avondale University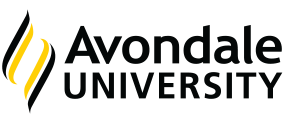 Location
Lake Macquarie campus - Main campus
582 Freemans Drive
Cooranbong NSW 2265
email: reception@avondale.edu.au
Sydney campus
185 Fox Valley Road
Wahroonga NSW 2076