The rewards of teaching
07 Jun 2022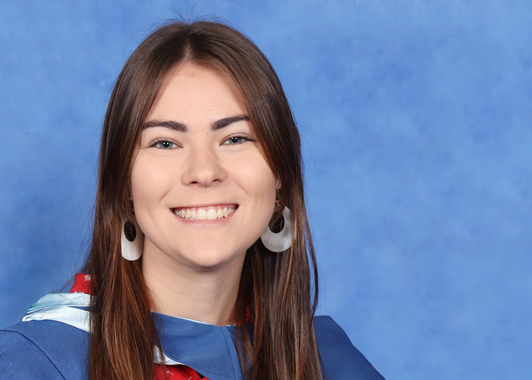 Cassandra Christensen
Junior School Educator
Bachelor of Primary Education, University of Wollongong
Graduated in 2017

Cassandra Christensen had always loved teaching, even before she studied to become an educator in the classroom. 'I taught dance, I was a swim instructor and I also volunteered and taught in Kids Ministry at church,' she says.
Pursuing a career in education seemed like a natural choice, as did following her passion for the arts. Cassandra applied for early offers through the University of Wollongong's early admission program with two possible courses in mind: Primary Education and Graphic Design.
'I also submitted an application through UAC with preferences for different universities – Wollongong still being my number one – just in case my application for an early offer didn't work out.'
She sat for an interview for each of her early offer applications and, to her relief, was successful for both. 'It made sitting the HSC easier as it felt like a weight had been lifted.'
Making the most of the uni experience
After accepting the Bachelor of Primary Education offer, Cassandra embarked on four years of full-time study. Wollongong was a social campus and she loved having the opportunity to meet people and make new friends, although balancing study, work and relationships was often a struggle.
'I worked two jobs while at uni and found it overwhelming at times,' she says. 'Prioritising and putting things into perspective is important. It's also good to be aware that you can drop subjects or enrol in summer subjects if the workload is too much.'
Group assignments were also an adjustment. 'Working with people that don't learn, think or operate the same as you to complete a task is difficult,' says Cassandra. 'I learned from my first group assignment to write up a contract and have all members sign to agree to contribute. It may sound extreme, but it was often necessary, and it helped when showing the tutor/lecturer who completed the work.'
One of the biggest highlights of her course was completing practical experiences at different schools in her local area. 'Every year I was able to go to a school and implement what I had learned about behaviour management, child psychology, lesson planning, teaching strategies and much more,' she says. 'I learned so much being in the classroom: it really refined and consolidated my knowledge and shaped me as a teacher.'
The transition to work
With a significant proportion of the current teacher workforce due to retire, and the population continuing to grow, the demand for new teachers in Australia is strong. In her first year out of university, Cassandra was able to secure a maternity leave position at a private school in her area, and is still teaching there as a Junior School Educator almost five years later.
While starting full-time work was tiring – and she missed those long uni holidays – Cassandra enjoyed the transition to consistent work every day with her very own class.
She says the hardest part of her job is managing the workload. 'There is a lot of data to be collected from assessments, along with providing evidence of meeting teaching standards, planning and sequencing units, report writing and much more work behind the scenes. It can become overwhelming at times.'
Never stop learning
Despite these challenges, Cassandra has thrived in her role so far. 'I love collaborating with students and their families to see them achieve their goals, and I enjoy working with great people who inspire me to be a better teacher and encourage me in my teaching journey,' she says.
'I also love that I get to teach not just one subject but many, and see students with different skills flourish in different areas. Sharing my passion for art, dance and writing with the students is the highlight of my job.'
Cassandra emphasises that there are many opportunities to pursue your interests and shape your teaching career to suit you. 'Teaching changes all the time: there is so much to learn, so many different facets of teaching and pathways to take depending on your passions and strengths. This is what makes education so great,' she says.
'If you love science, you could become a coordinator in STEM (science, technology, engineering and mathematics); if you are great with interpersonal skills, you can direct the school's wellbeing program; if you are passionate about the arts, you can be involved in musicals or Schools Spectacular, all while teaching. So, if you want to be a teacher I'd say, yes, do it.'

Teaching webinars
UAC webinar: Let's Chat – Teaching
Missed this month's teaching webinar? Watch the recording to hear an expert panel discuss which HSC courses are recommended for a teaching degree, different types of teaching you can apply for, entry requirements, application statements and much more.
Watch the Let's Chat – Teaching webinar
UAC webinar: Let's Chat – Teach NSW information session | 18 Jul 2022 | 6pm
Learn more about career-enhancing opportunities for current and future teachers within the NSW Department of Education.
Register for the Teach NSW information session
UAC webinar: Let's Chat – Teaching students | 4 Aug 2022 | 6pm
Current teaching students from a range of universities share why they chose their course and their experiences of student life.
Register for the Teaching students webinar

More teaching information and resources
The UAC website provides information about admission requirements for teaching courses, NESA requirements for teachers in NSW, literacy and numeracy proficiency, the background checking process and more. Requirements for teaching courses
NSW Government's Teach NSW website contains useful resources and information about becoming a teacher in a NSW school.