UAC's 2022 Student Lifestyle Report
Key insights from 13,000 Year 12 students
Find out what school leavers are thinking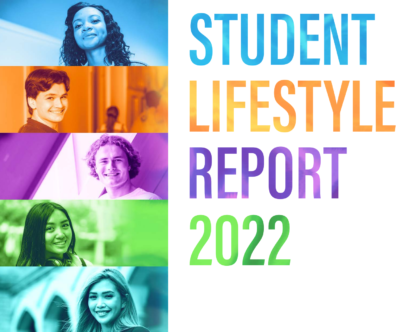 UAC's Student Lifestyle Report 2022 has landed and features insights from over 13,000 Year 12 students across Australia.
Download a copy of the report and make sure you don't miss hearing the voices of the thinkers, leaders and creators of tomorrow.
This far-ranging report explores school leavers' experiences, attitudes, and behaviours as they enter a world full of rich opportunities and novel challenges.
The topics explored include key drivers around university selection, brand alignment, income and spending, COVID attitudes and technology preferences.
These insights are mixed with authentic student voices to provide a truly unique picture of what school leavers are thinking and feeling as they undergo a period of significant change and start university or college.
They already represent around 20% of Australia's population; within a decade, they will be the largest generation of active workers.

Some key insights revealed:
Passion for the subject matter is the biggest driver of course selection behaviour.
Over half of students work a casual or part-time job during Year 12.
Half of students say mental health is one of their biggest concerns.
One-fifth of students listen to CDs or records.
Download your copy of the report and if you would like to discuss any of the findings or information presented in this report, please contact us.