Top tips for starting university
15 Feb 2023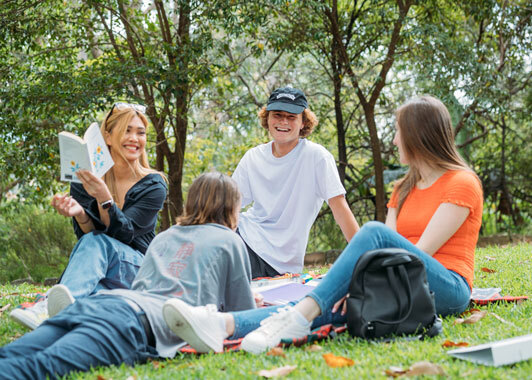 The paperwork is done: you've accepted your uni offer and enrolled. But what can you expect when you actually arrive on campus?
We asked current students for their top tips for starting university.
1. Keep an open mind
Jess Murphy is studying a Bachelor of Business Leadership and Commerce at Macquarie University. Her advice is to be open to everything.
'University is definitely a time of growth and development, so embrace change and try new things. Get involved in activities on campus and explore your interests beyond the classroom.

'In the beginning, I was very reluctant to join any societies or go to uni events because I didn't know anyone or didn't think they would be worth it. But looking back I wish I did. During my third year I joined a consulting society (consultancy is the career path I am pursuing) and through it I created some of my favourite memories of uni.

'Making friends isn't always easy. Don't put pressure on yourself; they will come in time and probably when you aren't even looking for them.'

2. Stay organised
Seth Hennessy started the Bachelor of Medical Sciences at Macquarie University and has since been accepted into the Doctor of Medicine (Joint Program) at Western Sydney University/Charles Sturt University.
Seth's number one piece of advice is to stay organised. 'Uni is vastly different from high school in many ways – one of them is the workload. You can go from having a little bit of tutorial work to catch up on to drowning in four separate assignments that are due in three days' time. However, if you keep yourself organised you will find uni far easier and a lot more enjoyable.'
3. Work consistently and ask for help if you need it
Seth has some words of warning about the freedom that university offers when it comes to attendance. 'One thing I wish I knew is that while it's great to be able to skip lectures, it can quickly become hard to catch up. No one is following you around to make sure you stay on track and go to classes. It's in your best interests to attend as many lectures as you can and to stay on top of the work.
'Fortunately, if you need support with your studies, most universities have free services and resources. Don't ever be afraid to ask for help.'