Studying medicine: application tips and what to expect
07 Jun 2023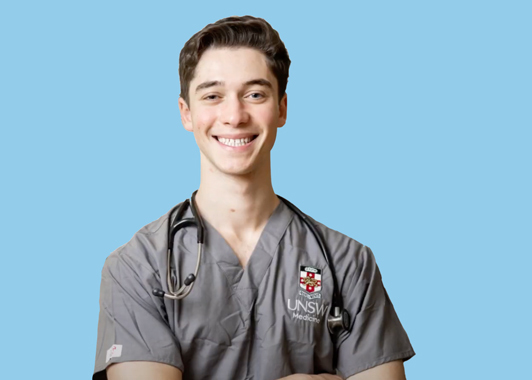 Josh Lowinger
Fifth-year student, Bachelor of Medical Studies/Doctor of Medicine,
UNSW Sydney
National Coordinator, Australian Medical Students' Association
President, UNSW Medical Society (2022)

It wasn't until the final years of high school that Josh Lowinger realised medicine was his passion.
Torn between options such as psychology, science, law, engineering, and arts, it was through work experience and chatting with people in the medical field that things eventually clicked.
'What appealed to me about medicine was the very strong personal aspect – you're caring for people at their most vulnerable – mixed with my love of science and problem solving,' says Josh, now a fifth-year med student at UNSW.
The 'personal aspect' is something that has been prevalent from the very beginning of Josh's studies. Now on placement in the Department of Paediatric Surgery at the Prince of Wales Hospital, he has loved connecting with hospital patients, 'getting to hear their stories and playing an active role in their lives'.

Life as an early med student
After going straight from Year 12 into his undergrad medical degree, Josh found the coursework both fascinating and challenging.
'There is so much information you have to learn and absorb that definitely challenges you into new ways of thinking,' he says. 'For me, the first couple of years at uni were about figuring out how I learn best, trying different approaches and finding one that suited me, as well as realising that it's okay not to get it right 100 per cent of the time.'
Thankfully, Josh has felt well supported by a medical faculty that is very passionate about teaching. 'You develop quite a nice relationship with your lecturers, particularly those who take on a bit more of a mentoring role – they feel like not only a teacher but a friend.'
The first and second year of UNSW medicine is mainly campus-based teaching, however students also learn clinical skills and spend time in hospitals from their first term, which for Josh was 'such a privilege and an eye-opening experience'.
In third year, students spend three days a week in hospital and two days on campus, continuing to build on what they've learnt and applying medical sciences theory to clinical cases. In fourth year, students undertake an independent research project on any topic, working with experts in their chosen area with the aim of discovering new treatments or methods of improving patient outcomes.
For Josh, a past president of the UNSW Medical Society, the tight-knit student community – as well as the vibrant student life and extracurricular programs such as the annual med show, sporting competitions, and big social events such as the 'scrub crawl' – have been some of the best things about his studies so far. 'You're with the same cohort the whole way through, not only in your med degree but also in your careers as doctors.'
'We also have self-care days, a really good initiative where you're allowed to take two days each term, at any time you want, just to focus on your mental health,' he adds. 'It's showing med students that work-life balance is the most important thing.'
Hospital placements: what to expect
While all institutions structure their medical programs differently, the fifth and sixth year of Josh's degree will be occupied mostly by full-time hospital placements. Students are attached to real teams and are actively involved in patient care – from when they present to hospital right through to treatment, discharge and follow up.
For his current rotation in the paediatric surgery department, Josh will typically arrive at 7am for ward rounds with the doctors, checking how patients are progressing with their treatments or how they are going post-surgery.
His team will then spend some time in the clinic, caring for patients who have come to the hospital from all over NSW, then head into surgery theatres, where med students are able to scrub in and observe or assist with a variety of procedures.

Day to day, there is always something new to learn. 'You might get some tutes from doctors scattered throughout the day, on anything from medical sciences to different treatments to the social-cultural aspects of health and diseases. In the afternoon there's always something on, whether it's a suturing workshop or a professional development networking event.'

This year, Josh has already experienced a wide range of placements in cardiology, respiratory and oncological cancer surgery, and will later do two psychiatry placements. Fifth-year students are also offered the opportunity to do a short-term rural hospital placement in places like Wagga Wagga, Coffs Harbour and Albury. Many cite this as one of the best parts of their medical degree, he says, due to the hands-on experience and high-quality teaching and learning.
Throughout his journey, Josh has come to appreciate the sheer breadth and collaborative nature of the medical and health fields.
'You're always working in a team, never on your own,' he says. 'Although we're studying medicine, there's so much collaboration with allied health, nurses, physios, dietitians, speech pathologists, social workers and more – it's fantastic to work with all of them in a primary care setting, and to experience it all with your peers.'
Advice for Year 12 applicants

Applying for medicine: keep it simple and do your best
'There's so much information out there that it can seem overwhelming, but it's best to keep it simple. Focus on your Year 12 studies; do your UCAT in July; and apply with UAC and through the specific medicine portal for the institution you want to go to, if that's required. It's really all you need to worry about.
'Look at the medicine key dates page on the UAC website, as well as the medicine page for the uni you're applying to. Make sure you know the key dates for UCAT, and for putting your application in and finalising your UAC preferences. As long as you've got those dates down pat, it's really just a matter of giving it your best shot. All you can ask for is to do the best that you possibly can.'
Keep your options open
'Don't feel like this is your only shot, because if medicine is what you want to do, you will get there one way or another. There are so many pathways to undergrad and postgrad medicine, and about 25 medical schools across the country. If it's something you are passionate about, you will get into medicine eventually.
'Go in with an open mind and consider all the different options. Even if you don't do medicine, there's so much more to the health sphere, including all the allied health fields, medical sciences, research and education.'
Look after yourself
'The most important thing to remember in Year 12 is: you got this. Believe in yourself and remember that you're on the home stretch. Keep up with your social life, your extracurricular activities and your other passions, not only because they're essential for your mental health and wellbeing, but also because those things will hold you in good stead for your medicine interview and for when you join the medical community.
'It's going to be a busy year and you're going to put in a lot of hard work, but it's 100 per cent worth it once you get here. It is really, really fun and rewarding.'
More information
Medicine key dates – Information about applying for medicine, including application and offer dates.
Western Sydney Careers Expo – Visit the UAC stall and attend our seminar, 'So you want to be a doctor? Q&A on medicine entry', on Saturday 24 June 2023.
Let's Chat: Medicine Students – Watch this UAC Digital webinar on YouTube to hear current students share why they chose medicine and their experiences at uni so far.