Pioneering a career in engineering and construction
08 Nov 2023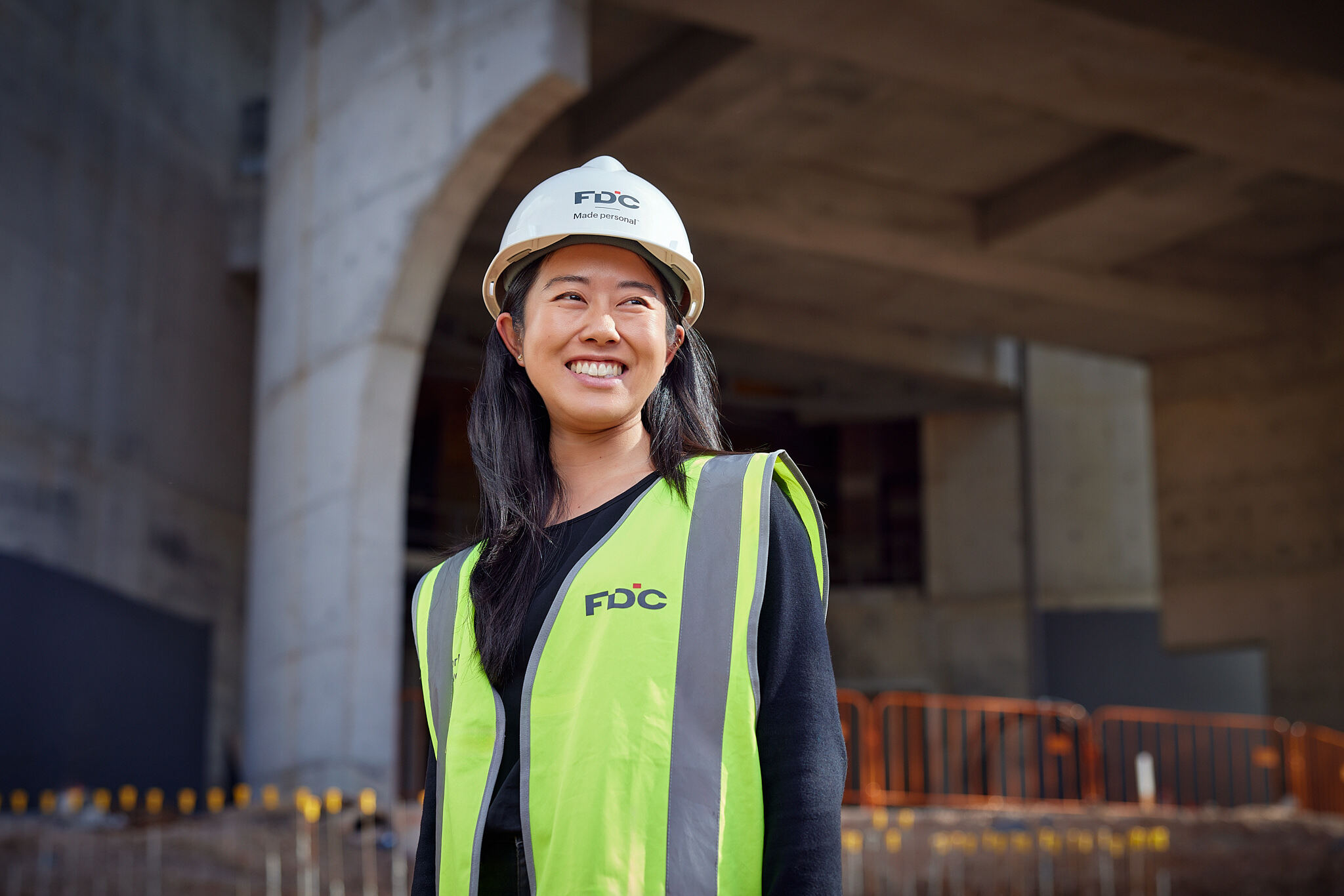 Sophie Ung
Project Coordinator, Fitout & Refurbishment, FDC
Bachelor of Engineering Honours (Civil)/Bachelor of Design in Architecture
University of Sydney
Graduated 2016
During her final years at school, it was clear to Sophie Ung that she had an affinity for science and mathematics. But while she tried out Engineering Studies in Year 11, it wasn't always obvious that engineering would be her chosen profession. Her main criterion was to pursue something tangible and hands-on.
Some career guidance helped to focus her interests further: 'I sat down with the school's careers adviser and by the time I had to submit my application I knew it was going to be civil engineering in one form or another. Some civil engineering degrees offered minors in design architecture but I think at the time the combined degree with architecture was unique and fairly new.' In the end, Sophie set her sights on the double degree.
Having made her decision, the application process was straightforward: submit a UAC application (early offers weren't so prevalent six years ago), excel in the HSC and secure a well-deserved spot in her desired course.
University life and highlights
Sophie's arrival at university marked the beginning of a challenging but satisfying journey, particularly within the unique environment of a double degree. With only 15 students in her cohort, she formed close bonds with peers. 'We pretty much had to go to the same classes together every semester. So we became a really nice, tight group. I still keep in touch with a lot of them today.'
Sophie made the most of the opportunities offered. 'A friend and I were co-presidents of my university's chapter of Engineers Without Borders. I also received a scholarship from them and, once I graduated, I travelled overseas with them.'
Throughout her academic journey, internships and practical experiences were vital components that enabled her to move out of the classroom and apply her knowledge in real-world scenarios.
'Starting our professional development in the third year of our five-year degree really helped. It meant we had to start applying what we'd been studying early on.
'I worked for a couple of months in an architecture firm and realised pretty quickly that it wasn't for me. So getting practical work experience while at uni helped me work out what I didn't want to do. But then I did an internship at a structural consulting company and decided that was the type of work I wanted to pursue.'
Even today, working in construction rather than structural engineering, Sophie looks back on her years as a structural engineer and appreciates the wealth of experience and growth it brought her. Her diverse background allows her to think outside the box, a skill highly valued in her current role.
The double degree advantage
The combination of civil engineering and architecture broadened her horizons in ways Sophie hadn't anticipated. The architectural knowledge she acquired during her studies made her a more empathetic and effective communicator when collaborating with architects on projects. 'When an architect gives us a concept, the engineer has to try and work out how to make it happen. I have the capacity to sympathise with architects and what they're trying to achieve.'
While Sophie could have reached her current position with a civil engineering degree alone, the journey, knowledge and experience would have been different. Her experience as a structural engineer in bespoke design work provided unique challenges that enriched her professional growth. 'Because I've worked on less typical – or less stock standard – projects, I'm able to challenge myself even today to try and think outside the square.
'I've also come across people who were architects or mechanical engineers in a previous life. I think construction is broad enough that you don't necessarily need to bring technical engineering skills, but you can transfer over so many soft skills from other degrees.'
The ever-changing construction industry
Working at FDC, Sophie is now an integral part of her construction team, and she thrives in an environment where predictability is rare. Her day-to-day work involves juggling tasks, from managing subcontractors and clients to coordinating with her team.
The tangible nature of construction, where she can witness the physical transformation of her work, is a source of immense satisfaction.
I love that in construction you get to see the progress of what you're doing. It's very, very tangible. You can actually touch what you built.
Challenges are par for the course. Every part of the job presents an opportunity for learning, from technical aspects – like her current project of fitting out hospital operating theatres – to dealing with specific contract clauses. The diverse and ever-evolving nature of construction keeps her engaged and motivated.
A vision for the future: breaking barriers
As a female professional in the traditionally male-dominated construction industry, Sophie aspires to be a role model, paving the way for other women to enter and thrive in the sector. While acknowledging the progress that has already been made, she is realistic about the time it takes to bring about meaningful change.
FDC's recently launched Women in Construction Movement has provided Sophie with a platform to educate, support and encourage females to pursue a meaningful career in the construction industry. 'I know there's still a way to go but I'm trying to make a difference in the way that I work, in the way that I mentor people that are junior to me and in the way that I deal with trades on site.'
Advice to aspiring engineers and builders
Sophie encourages young women not to be intimidated by the old reputation and stigma of the construction industry. 'I think it's a great industry and it's an interesting time for females to start their career. All the legwork is happening now and it will be even more welcoming by the time they finish their cadetships or their internships in the next few years.'