Law and arts: skills to make a difference
27 Sep 2022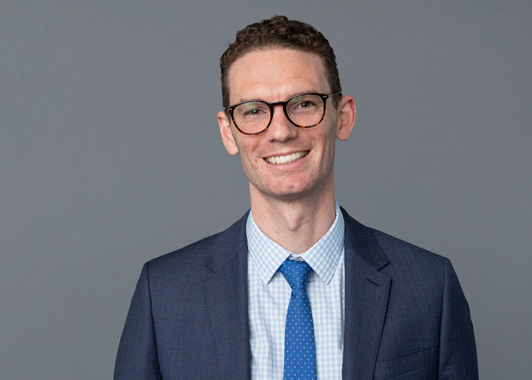 Jacob Madden
Assistant Secretary, Emergency Preparedness and Response, Department of Health and Aged Care
Master of Public Health, Australian National University (graduated 2019)
Bachelor of Laws (First Class Honours) and Bachelor of Arts (Behavioural Science), University of Notre Dame Australia (graduated 2011)
Jacob Madden has always been driven to make a difference and to find roles – and workplaces – that allow him to do that.
While studying for his HSC, Jacob oscillated between wanting to study teaching and law. In the end, law won out. 'For me, studying law was a pathway to understanding our systems of government and processes of justice more deeply,' he says.
He applied to the University of Notre Dame through their Young Achievers Early Offer Program and received an offer to study a Bachelor of Laws and Bachelor of Arts (Behavioural Science). This combination of legal training, psychology and political science – and a foundation of skills in persuasion, negotiation and critical thinking – has paved the way to a successful career advising leaders in Canberra on today's policy challenges.
Making the most of the uni experience
Having relocated from a regional area to Sydney for university straight out of high school, Jacob initially struggled to balance full-time study with part-time work. But once his support networks were established – including study groups set up to share notes with his peers – he found his feet and began to thrive.
At Notre Dame, Jacob was part of a new university campus at its formation. 'We had small classes, close engagement with faculty, and a strong say in the direction and ethos of the university,' he says.
'This meant strong bonds were formed between students and I felt empowered in setting the direction for my future – choosing electives, making informed decisions by being able to speak openly with staff, and feeling valued in giving feedback.'
One of the most valuable parts of his law degree was its focus on systems and ways of thinking – 'being able to look at a scenario and unpack it methodically and logically but with an eye to all possibilities'. This analytical framework would set him up well for his future roles providing advice to ministers and prime ministers.

Pairing his law degree with a Bachelor of Arts (Behavioural Science) allowed Jacob to build a different framework of thinking and 'exercise his brain differently'. At the end of his studies, he brought the different streams of law and behavioural science together, studying a mental health law elective before writing his honours thesis on aspects of the mental health legislative framework in NSW.
'Understanding people and their behaviour are central to so many aspects of government decision making and our legal system, so building the foundation in both law and arts positioned me well for my career.'
From law to public service
After working as a paralegal at Maurice Blackburn Lawyers during his undergrad study, Jacob joined the Department of the Prime Minister and Cabinet in Canberra straight after university.
'At the time I wasn't sure whether I wanted a career in the public service or a more traditional career in a firm,' he says. 'Over time I realised my interest in law and making a difference was fuelled by opportunities to make system-wide change and having an impact at a population level.'
This passion to effect change saw him take on such roles as a Policy Officer for the Australian Department of Foreign Affairs and Trade, where he worked as part of a small team on managing Australia's economic and development relationship with the United Nations and key agencies, such as UNICEF.
It was while completing his Master of Public Health at the Australian National University that Jacob's career began to pivot towards tackling social security, human services and public health policy challenges.
'Supplementing my undergraduate studies almost five years later with postgraduate study in public health has given me a different frame and helped join the dots,' he says. 'Questioning why things are the way they are, what the consequences and benefits are, and the points of intervention – thinking about this analytically with a legal mind and strategically with a public health mindset – are some of the challenges that characterise my work.'
A world of possibility
Jacob's current work with the Department of Health and Aged Care is a balance of direct service and program delivery to support aged-care providers and big picture policy work to advise governments on emergency management and the COVID-19 pandemic.
While his role as the Assistant Secretary of Emergency Preparedness and Response is often challenging in terms of its high-profile nature and the sheer volume of work, it provides Jacob with variety and depth, and is also incredibly rewarding. 'I can see the impact we are having and I am constantly addressing complex issues, problem solving, negotiating outcomes and persuading others.'
For those who are thinking of pursuing law, Jacob emphasises that a law degree is an opportunity to open many doors and set your own path for the future.
'I haven't had a traditional career in a firm or in the legal system, but seeing how legislation is made and supporting good governance and national decision making have all benefited from my background in law,' he says.
'My advice would be not to see law as a narrow option and to remain open to the wide world of possibility.'