Keep calm and study on
11 Oct 2023
HSC exams have arrived! While it's exciting to be on the home stretch, for many Year 12s the pressures of revision, ATARs and exam day can be overwhelming.
According to high school careers adviser Kate Poppett, putting in place some simple routines and taking time out – plus shaking things up every now and then – can help you stay focused and motivated until the end.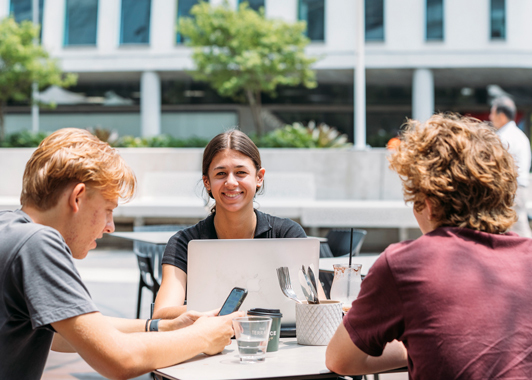 Before exams
Poppett, also founder of online careers platform Huddle Collective, recommends getting back to basics.
Set a routine: Bookend each day with a routine that helps you recharge. 'In the morning, make sure you have breakfast, get a little bit of sunshine and fresh air. During the day – even though it can be hard – try to set aside an hour to completely separate yourself from study. In the evenings, switch off all devices an hour before you go to bed, then go and have a shower, take a walk or talk to a friend. Do something that will help you unwind.'
Make a checklist: Break your daily study plan down into a checklist of smaller, achievable tasks, then circle your top three priorities. 'Ticking those things off will build your confidence and keep you motivated,' says Poppett.
Change it up: There will be days when you feel distracted, overwhelmed, or just unable to crack on with it. How do you get motivated? Poppett is a fan of the Pomodoro Technique, a time management system where you break your study into 25-minute chunks, separated by 5-minute breaks.
'Target your top three checklist items first. You're not going to get everything done in 25 minutes, but make as much progress on a task as possible. Then reward yourself by choosing from a list of things you can do in five minutes, such as walking to the end of the street and back, doing some belly breathing, stretching, getting a snack, calling a friend. Those forced breaks will help prevent you burning out towards the end of the day.'
Getting creative is another way to get out of that revision rut. Poppett is constantly impressed by students' innovative study ideas: 'I have seen and heard it all: using platforms such as Kahoot!, creating Trivial Pursuit games, or students teaching the concepts they are learning to their siblings,' she says. 'The key is to be interactive. For example, you might get six of your mates on Zoom and study on mute, then take a break every now and then to have a laugh or throw some ideas around.'
Remember, there is no one-size-fits-all for how to study. Different things work for different people, so experiment to see what works. Be honest with yourself and set up routines that are realistic for you.
Exam day
It's normal to feel anxious on exam day. But getting organised, preparing all the equipment you need ahead of time (such as a working calculator, pens and back-up pens) and planning ahead can take the pressure off.
'Set yourself up with your morning routine and be strategic about when you want to get to the exam venue. Have a think about your personality, what works for you and what doesn't,' says Poppett.
'Extroverts might really thrive off arriving early and bouncing ideas off their peers, chatting and gaining energy from others. Introverts, on the other hand, need the time to reflect and prepare on their own – they might prefer to show up just on time and give themselves some space.'
Keeping momentum (and perspective)
Remember, there is nothing more you can do once an exam has been handed in. It is time to debrief (if you want to), reward yourself with a break, then move on to the next thing.
'Switch hats for the next exam – from English to maths or PDHPE or whatever it might be – and just keep going.'
If things haven't gone exactly as you planned, you might be worried about your ATAR or university offers. But Poppett says it is important to remember that your marks are not indicative of your potential or future success.
'I always remind my students that universities are aware that life happens and have put alternative pathways and early entry schemes in place to support them,' she says. She encourages those who have experienced disadvantage to consider UAC's Educational Access Scheme.
'I also want Year 12s to know that what they do next year is not the be all and end all. It's just a step into their next chapter: things will evolve, and opportunities will present themselves. You just have to trust the process a little bit. In the end, it's all exploration and the chance to choose your own adventure.'
Want more advice? NESA has online resources to support you throughout the exam period, including: