Finding a passion for nursing
07 Jul 2023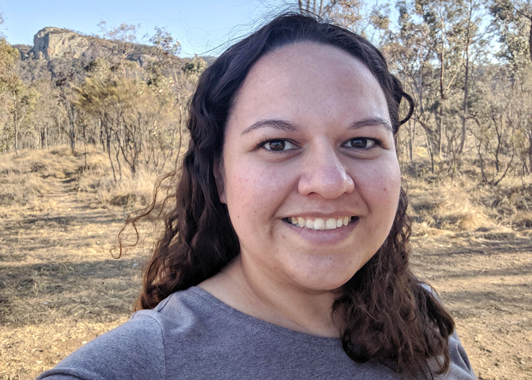 Sarah Loft
Assistant in Nursing
Bachelor of Nursing, Western Sydney University
Current student
After only three semesters of her nursing degree, Sarah Loft is fully immersed in campus life.
'I work as an ambassador and represent the university at a variety of events, such as open days and school visits, and I also mentor young people. Because I've been to university before, I don't want to miss any opportunities.'
A proud Kamilaroi woman, Sarah also has a role as an Assistant in Nursing (AIN) at a local hospital and has career goals to work in anaesthetics or in ICU and emergency departments ('something that really gets the adrenaline pumping!'). Honours or postgraduate study could also be on the cards.
She's thriving now, but finding the right degree was not straightforward. Since finishing Year 12, Sarah has started degrees in law, business and IT. 'Ten years later, I finally came back to study nursing,' she says.
'This is my fourth time returning to university. I'm proof that just because you didn't get it right the first time, doesn't mean you won't get it right eventually.'
The path to nursing
Many who have been through the healthcare system remember the efforts of their nurses for the rest of their lives. This was the case for Sarah, who was a patient as a child. 'The nurses that I had were great, and I wanted to be able to do that for somebody else,' she says.
The flexibility of the profession also appealed. A nursing qualification provides skills that are in high demand, both in Australia and around the world. 'Once I finish my study, I'll have so many options – that's the beauty of a nursing degree,' she says. 'I can move anywhere, and my degree will be able to take me there.'
When it came to choosing an institution, Sarah did all her research online. Living in Queensland at the time, she wasn't able to go to open days in Sydney so relied heavily on what she could find on university websites. In the end, she opted for convenience and a practical learning experience.
'I chose Western Sydney University as I wouldn't have a very long commute to campus. It also offered the style of learning that I was after, with a hands-on teaching approach rather than just purely theory.'
She applied and was successful for the university's Aboriginal and Torres Strait Islander Pathway Program, which involved a two-day testing and interview process. 'Applying for the program also gave me exposure to how the university presented itself and the kind of interactions that you could expect with staff and teachers.'
Nursing degrees: expectations vs reality
Sarah had previously worked in health care and completed a Diploma of Anaesthetic Technology through TAFE Queensland, so coming back to study nursing felt familiar 'but also kind of daunting'.
'What you learn in nursing has been very different from my expectations,' she says. 'You gain a holistic education of the health system and a person's progression through life, rather than just how to take a blood pressure or give medication.'
First-year subjects covered effective communication, legal matters surrounding nursing registration, and what the public's perception of nurses are. Psychology subjects have given Sarah insight into human behaviour and what may have caused a patient to become the person they are.
'Obviously, the first year of any degree is really about building those foundations. Even though some of the subjects may be a bit dry, I can see how we're building on that in our second year and it's just going to grow and grow.'
She has particularly enjoyed the practical aspect of her degree. Every week, COVID-permitting, she attends classes in-person to learn hands-on skills that she can then use in her role as an AIN. 'My work at a hospital has been really great for me as it has given me that extra place to consolidate my learning.'
Making the most of the uni experience
Sarah emphasises the importance of asking for help once you get to uni. 'The difference between this and high school is that teachers at university aren't going to chase you. If you don't submit something, it's just not submitted. If you don't ask for the help, they're not going to know that you need it,' she says.
'Your tutors are always available and happy to help. Just send them an email and say, hey, could we please re-cover this material because I didn't quite get it the first time. Reaching out can open up a lot of doors that may have been closed to you before.'
Through volunteering and putting her hand up for opportunities, Sarah has broadened her social network and become involved with many different communities at uni. She recommends checking out your university's career website, which has jobs for current students as well as those who are graduating.
'The website also lists roles where you can work for the university. Those jobs are fantastic and they look great on your CV, but they also reimburse you pretty well and you get to have a lot of fun doing them. My work as an ambassador is probably one of the best jobs I've ever had.'
Advice for nursing applicants
Wondering if nursing is right for you? 'My advice would be go to open days, speak to teaching staff and students about what the course demands are, and what career opportunities look like,' says Sarah.
'Understand that during the degree you have to commit to unpaid clinical placements, and when you graduate, you'll most likely move into a shift-work role. However, you come out with a career that can take you anywhere and has endless possibilities.'