Curious about a campus?
30 Jun 2023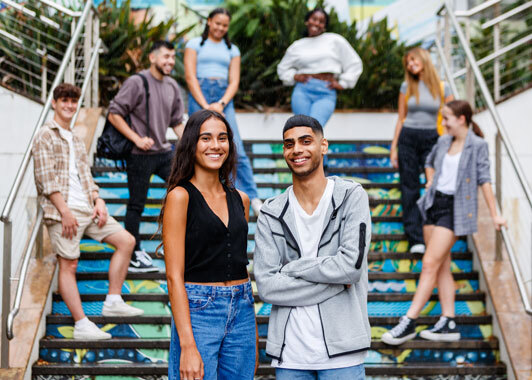 There's a lot to think about when you're deciding which university is right for you. Courses, teaching style, location, facilities, extracurricular opportunities, campus vibe – these are all things you might factor in when you're searching for an institution that aligns with your personality, interests and goals.
UAC Maptivate, now available on our website, is an interactive map that enables you to traverse the continent and zero in on each of UAC's participating and apply direct institutions' campuses. If you're thinking of moving from home to study – or even if you're staying local – this tool can help you start your higher education journey in the right place.
Maptivate allows you to explore the location and surroundings of campuses in your area and further afield. The map has two layers that you can turn on or off to show UAC's participating institutions or apply direct institutions. You can also choose to show or hide institutions in different states and switch between map and table format.
Click into each campus and discover fields of study and course types offered by the institution, including undergraduate, international, postgraduate and pathway options.
To explore further, follow links to connect with the institution's social media channels, find out more about what the campus offers, and plan a real-life visit at an upcoming open day.
This is a great tool to share with your family and friends as you narrow down your university shortlist and enter your course preferences in your UAC application. Going to an institution with the opportunities, sense of community and facilities you want will help you create a good balance between studying and socialising and ensure your time at uni is a life-changing experience.
Access Maptivate UAC from the 'Our institutions' link on the UAC website homepage.