Changing course: a clear vision for farming's future
17 Nov 2022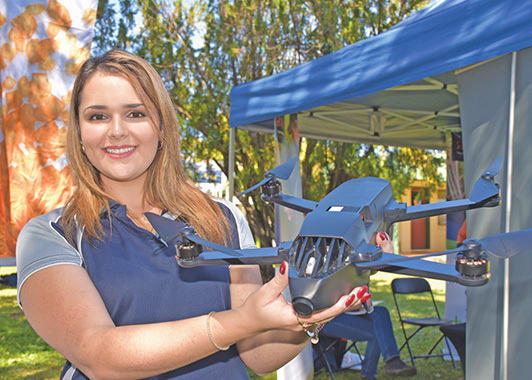 Dayna Scapin
Founder, InnerVision Drones
Bachelor of Science (Regenerative Agriculture), Southern Cross University
Graduating in 2022
Dayna Scapin has always loved figuring out how things work. Growing up on her family's mango and avocado farm, she would help her dad fix things or design and build inventions of her own. 'For as long as I can remember, I'd wanted to become an engineer,' she says.
It came as a surprise, then, that after one successful year in her engineering degree, she decided to put her studies on hold and change the direction of her career.
A critical moment came when Dayna visited a space agency and a mineral technologies facility as part of her first-year studies. 'I asked the people at each of these companies if the engineers got to build prototypes or assist with the building of anything they designed, and both of their answers were, "No, we get the workshop guys to do that; the engineers usually stay on their computers at the desk,"' she says.
'While this might not be true for every single engineering job out there, I couldn't see myself sitting at a computer for the majority of my career. Put simply, engineering just wasn't what I thought it would be, or the vision that I had for myself in the long term as someone who loves to make things and be hands on.'
Living away from home also took its toll. Dayna was attending university on the Gold Coast, more than 1,800 kilometres from her close-knit family and rural community. Despite achieving distinctions in almost all her first-year engineering subjects, she decided to take 12 months off to work on the family farm and figure out her next steps.
'I'd been so certain about my career path for a long time, so when I had the realisation that, "Wow, this isn't actually what I want to do," I had to think deeply about what was really going to suit me and my passions,' she says.
Six months of work and soul searching (and a little boredom) later, things began to fall into place. 'I bought a small drone and absolutely fell in love with flying it,' says Dayna. 'Instantly I knew that I wanted to pursue a career that would involve flying drones instead of building them.'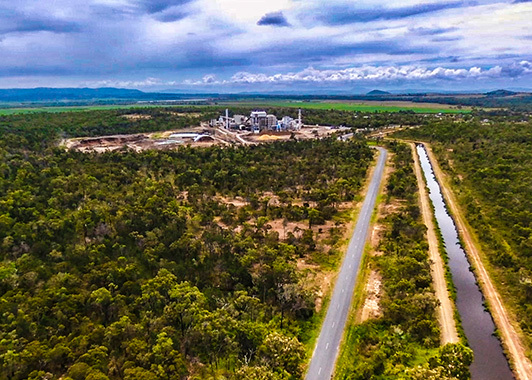 Dayna wasted no time in gaining her commercial drone licence and establishing her own business, InnerVision Drones, which offers services to farmers such as crop health monitoring and disease mapping data.
Soon after this, she discovered Southern Cross University's Bachelor of Science degree, which offered the major of regenerative agriculture as an online course.
'I knew this degree was a much more suitable fit for me, as it meant I could study from the comfort of my own home and be closer to my family, and it allowed much more flexibility than being on campus,' she says. As an added bonus, she was able to transfer credit for all eight of her completed engineering subjects to her new Bachelor of Science degree.
After making this change, Dayna thrived in her course, gaining skills that are highly valued in her industry, such as using programs with GIS (geographic information systems) and the ability to effectively analyse and interpret data.
Completing an internship at MSF Sugar's mills pushed her out of her comfort zone and prepared her for life after university. 'The internship got me involved with so many awesome people – both farmers and industry members – who taught me so much and built my connections and network.'
Dayna also received a Student Opportunities Fund scholarship from SCU, which assisted with the start-up and equipment costs for her business. As InnerVision grows, she has been able to help farmers and agronomists understand what's happening on their crops and, in some cases, discover things that they would never have spotted on the ground.
'My end goal has always been to use the knowledge I have gained from my studies in conjunction with my drone business to help farmers create a better future for farming,' she says. 'Using my drone data and interpretation, I want to not only give farmers better understanding of their crops, but also provide insights to the agricultural industry and environment.'
Now with her graduation only a month away and a bird's eye view of her completed studies, how does Dayna feel about her decision to change degrees?

'I can say that I absolutely love what I do,' she says. 'If I were to have told myself five years ago that this is where I'd be now, I probably wouldn't have believed it, but it was honestly the best choice I could have made.'
Advice for Year 12s
Take time to find your own path: 'Don't be afraid to take a gap year to find yourself and your passion, and don't let your school bully you into thinking that you have to know what you're going to do after school. It's totally normal to have absolutely no idea at all. Like me, many of my friends who went to uni straight after finishing high school have changed degrees after realising it wasn't for them.'
Work experience and internships: 'If you're considering studying a Bachelor of Science in agriculture, I'd recommend doing some work experience, either on a farm or for an agricultural company, to see whether you like doing this type of work and can imagine yourself doing it in the long term.'
Put yourself out there: 'For students in Year 12 or any grade, my biggest piece of advice would be: don't be afraid to ask questions! You can never ask enough questions. Also, don't be afraid to put yourself out there and give it a go, because everything is a learning experience. The worst anyone can say to you is no, and no matter what the outcome is, you can say that you gave it a go, you got experience – whether it was for writing an application and doing an interview, or even just asking for help – and it will prepare you for the next time.'
Top image: Dayna Scapin and drone, photo by Rhys Thomas.
Bottom image: photo taken by Dayna's drone, MSF Sugar, Tableland Mill.