5 steps to managing HSC stress
05 Sep 2022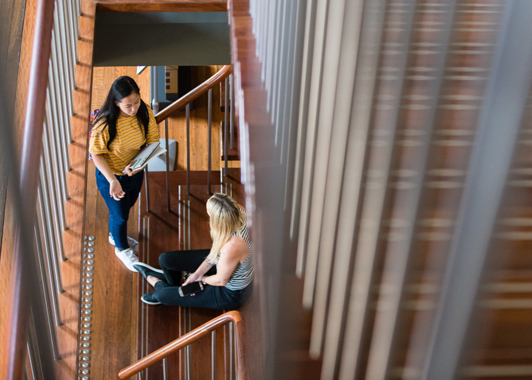 Stress and anxiety are incredibly common for students studying their HSC. While we need a certain level of stress to motivate us and help us achieve our goals, it's important to know how to manage it and seek support when things become overwhelming.
Josh Wiseman, Head of Data and Insights at batyr, recommends putting in place some preventative strategies and 'taking charge' of your mental health. 'Act on it early: don't wait until things get to the point where you need clinical or professional intervention.'
At batyr, a youth mental health organisation, Wiseman has worked with lived-experience speakers and clinical psychologists to deliver preventative programs to thousands of young people across Australia. He says there are a number of practical steps we can take to build resilience and deal with anxiety and stress.
Take time out. 'We often think that we need to study all the time to cram all that information in, but it's so important to give yourself permission to take time out and recharge,' Wiseman says. 'Try and get outside for a walk to get away from the computer. Do anything that just helps you just chill out, such as passing the footy around with your mate, playing an instrument, videogaming or going for a swim. Activities like this can remind us that there are other things outside of the exams and results that are important.'
Make a study plan and act on it. Often we avoid or procrastinate over the thing that's stressing us out, but Wiseman says confronting it head on and creating a plan can make us feel more in control. 'Set yourself a list and act on it; take bite-sized chunks out of the study or whatever the thing is that's providing the stress, so that you can feel that sense of achievement.'
Challenge your thinking. Ask yourself, if your best mate came up to you, and told you they had the same feelings of stress and anxiety that you're feeling, what advice would you give them? 'Often we give better advice to our friends or our peers or our loved ones than we give to ourselves,' says Wiseman. 'Challenging your thinking in that way, hearing your own feelings from someone else, can help you take action and prevent your thoughts from spiralling.'
Talk about it. 'The best advice that I've got for Year 12 students is that you're not in it alone,' says Wiseman. 'Look around you. All the people beside you in your classrooms are going through it as well. Share the experience with each other. No one's going to know what it's like going through the HSC in 2021 other than the people who are sitting next to you, so share it with them, and be supportive of one another.'
Reach out. Seek help from one of the many mental health services available in Australia, such as headspace, Reachout.com, Beyond Blue, Kids Helpline and Lifeline.
How parents can help
If you are a parent or caregiver of a student doing their HSC, it can be hard to know the best way to support your teenager during this stressful time. Wiseman says one of the biggest hurdles to overcome is starting the conversation, and starting it early.
'Check in with your teenager and ask open-ended questions. Say the things that you've noticed, like "I've noticed you haven't been enjoying footy training as much" or "I've noticed that you haven't left your room in a couple of days – what's going on, is everything alright?" Sometimes identifying what you've noticed can allow the person permission to open up about it,' he says.
'Practice makes perfect, and by continuing to try to talk to them, realising that we're only human and you might not get it right the first time is okay.'
If you need help getting started, organisations such as batyr, Beyond Blue and Reachout.com have tips, videos and fact sheets about talking about mental health with your teenager. The most important thing, says Wiseman, is simply being there to listen.
'Sometimes all we need when we're going through a tough time is someone to just sit with us, acknowledge our feelings and not solve the problem. If we know that someone gets it and we know that we're not alone it can really, really help, and that can be a huge step in the right direction.'
Make sure that your children know about resources and services available. Show that it's okay to take charge of your mental health and reach out to a professional.
Mental health services and resources
Mental health webinar
Catch up on UAC Digital's Mental Health and the HSC webinar to hear Jane De Matteis, Clinical Lead at Headspace, provide students and their parents with strategies to help manage mental health leading up to and during exams.