Australian College of Physical Education
Admission criteria and entry schemes
To be eligible for entry to ACPE's undergraduate courses you must meet the general requirements listed in one or more of the following categories:
satisfy English language proficiency requirements for the course you are applying to
be selected in competition with other eligible applicants
meet inherent course requirements.
Also, refer to UAC's general information about university admission criteria.
Information for applicants unable to meet admission criteria
Undergraduate applicants
Australian Year 12 students
Selection will be based on your ATAR or equivalent, including the International Baccalaureate (IB) (unless you have undertaken tertiary study, including TAFE). You may also be required to attend an audition or interview.

Selection rank adjustments
Selection rank adjustments may allow 2022 Year 12 applicants to receive an offer to a program even though they have an ATAR below the published lowest selection rank.

Equity adjustments
ACPE has an Educational Access Scheme (EAS) to assist applicants whose education has been disadvantaged by circumstances beyond their control for a substantial period of time. ACPE EAS applications are processed centrally through UAC.
To apply for EAS you must be able to demonstrate that your Year 11 and/or Year 12 studies have been negatively affected for a period of at least six months, as a result of circumstances beyond your control or choosing. You must also be:
a UAC applicant for undergraduate admission
an Australian citizen, a New Zealand citizen or a permanent resident of Australia.
Criteria that may apply in addition to the ATAR
In addition to achieving the standard admission criteria, students may also be required to attend an audition or interview. These may be taken into account instead of, or in conjunction with, your ATAR or equivalent.
Details on additional selection requirements are outlined in the course descriptions in the course search.

Special entry requirements
Dance
Applicants for the Bachelor of Dance Education, Bachelor of Dance Practice and Bachelor of Health Science (Dance) are required to attend an audition and achieve a satisfactory outcome. Contact an enrolment adviser on 1300 302 867 to apply for a dance audition.
Prospective students must demonstrate skills and attributes at an audition in order to achieve a satisfactory outcome for entry into the qualification. The criteria for a successful Dance audition and acceptance into one of the three Dance courses is linked to standards of dance technique and dance composition. Students are evaluated on their ability to achieve the minimum standard required for Year 1.
These criteria include:
fitness for dance (strength, endurance, flexibility)
alignment, coordination and self-use
ability to learn and remember new movement patterns and sequences
accuracy and clarity of execution
performance presence/quality
composition: inventiveness and readiness generating unique movement relative to an idea.
Education and Dance Education
To enter directly into the Bachelor of Education (Physical & Health Education) or Bachelor of Dance Education, you must meet one of the following criteria:
achieve at least three (3) NSW HSC Band 5 results, including one in English
pass bridging units benchmarked to a NSW HSC Band 5 result
enrol in an accredited degree and pass a full year of academic studies in the subjects you will teach
complete a NESA-approved alternative entry pathway as advised by your prospective university.
Literacy and numeracy skills
Applicants must sign a form acknowledging that they understand the AITSL and NESA regulations requiring them to demonstrate literacy and numeracy capacities commensurate with the top 30% of the population through the Literacy and Numeracy Test for Initial Teacher Education students (LANTITE). The LANTITE test is administered by ACER (at applicant's cost) and must be passed prior to commencing their final professional experience.

Other admission options
ACPE has a number of admission pathways, which may allow you to receive an offer for a degree or diploma even though you have an ATAR below the published lowest selection rank. Contact ACPE for more information about admission pathways.

Early Acceptance Program
ACPE's Early Acceptance Program is a simple and direct entry into the degree of your choice. Gain access to information sessions and receive application tips, secure a place at ACPE and seamlessly transition into college life with the full support of our Academic and Admissions staff. Finish Year 12 with the knowledge that you've received an offer from ACPE.
Visit the ACPE website for more information and download an ACPE Early Acceptance Program brochure.

Limited ATAR
ACPE accepts the Limited ATAR.
Applicants who have partially completed or completed previous tertiary studies at bachelor level or above may be admitted on the basis of the study undertaken.
Applicants with tertiary preparation studies or VET qualifications from TAFE or another recognised provider will be considered for entry. To discuss your eligibility before submitting an application to UAC, contact ACPE.
Post-school applicants may be admitted on the basis of employment experience and/or an interview process. You are encouraged to apply and contact ACPE to find out how you can enter into a program.
Applicants must demonstrate to the Dean's satisfaction good selection prospects as a student (eg relevant work experience and motivation to study) and ineligibility to compete for admission based on the academic achievement criteria.
Special Tertiary Admissions Test (STAT)
Post-school applicants may be admitted on the basis of the STAT Multiple Choice test.

There are commonly accepted overseas secondary qualifications that ACPE may take into consideration. Check your qualification.
English language proficiency
If you hold overseas secondary or tertiary qualifications from countries where English is not the standard language of instruction, you must provide evidence of English language proficiency.

General information for Australian College of Physical Education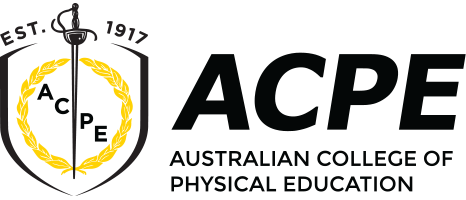 Other scholarships & schemes