UAC recognised as leading innovator in AFR list
31 Jul 2018

THE Universities Admissions Centre (UAC) has ranked 41st on the 2018 Most Innovative Companies list from over 1,000 nominated organisations across Australia and New Zealand.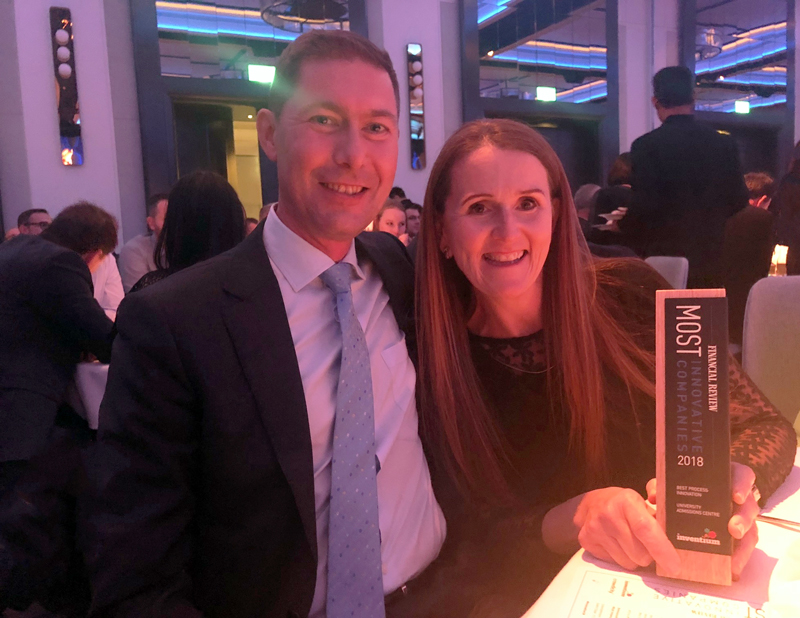 The prestigious annual list, published by The Australian Financial Review, is based on a rigorous assessment process managed by Australian innovation consultancy Inventium in conjunction with a panel of industry experts. It is the only national, cross-industry list of its kind.

The assessment methodology measures a top innovation implemented in the past twelve months. Specifically, the judges consider how valuable the problem is that the innovation is solving, the quality and uniqueness of the solution, and the impact the innovation has made. Inventium assesses internal elements such as innovation culture, strategy, resources and process, which demonstrate a sustainable and repeatable approach to innovation.
UAC was thrilled to also be awarded Best Process Innovation for releasing Australian Tertiary Admission Rank (ATAR) documents to NSW HSC students using Ethereum blockchain technology. This technology was embedded in ATAR documents to allow self-verification of the document, eliminating the potential for fraud.

Dr Amantha Imber, CEO of Inventium, says, 'The field of entrants for the 2018 AFR Most Innovative Companies list is the highest quality we have seen in seven years of judging the list. Making the 2018 list is a massive achievement and signals that the organisation is not only producing highly impactful innovations, but also has a sustainable approach to growth.'
Kim Paino, General Manager of Marketing and Engagement at UAC, says, 'This is hugely exciting for UAC and we are thrilled to be recognised for our innovation. A key driver of our success is our market-centric approach to innovation. We are now looking at how machine learning technologies can help applicants find the course that is right for them so they can access their potential.'
For more information about our innovative technologies, contact UAC.
- END -
For further information (media only) email media@uac.edu.au or contact:
Raquel Tracy, Communications Officer, UAC on (02) 9752 0775
Kim Paino, General Manager, Marketing and Engagement, UAC on (02) 9752 0760 or 0409 155 112.