Directions - July 2018
04 Jul 2018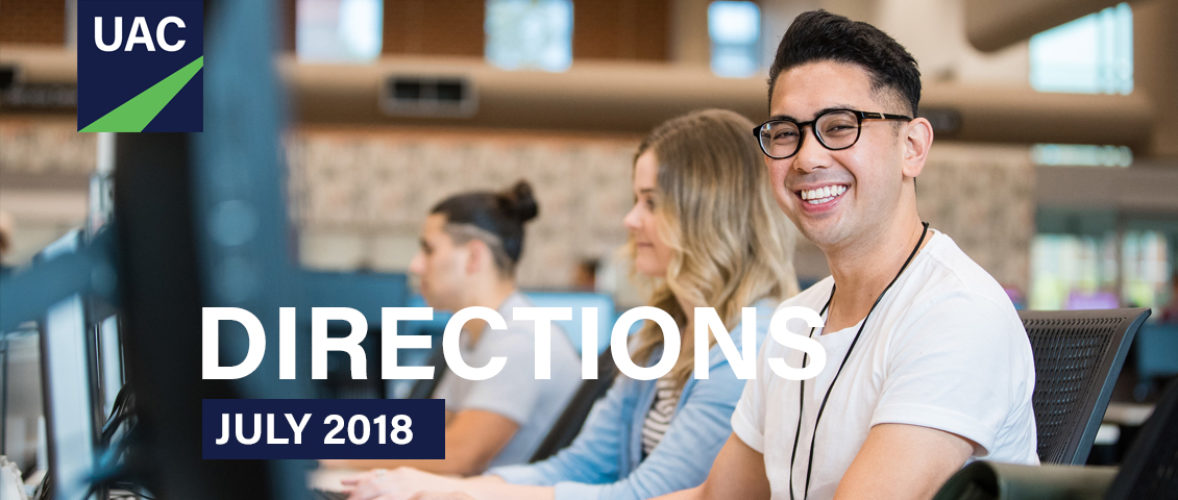 GET READY TO STUDY IN 2019!
Undergraduate applications open on Wednesday 1 August 2018. We recommend you apply by Friday 28 September 2018, before the processing charge increases. Read more.
Applications for postgraduate study open on Wednesday 5 September 2018.
GET IN QUICK FOR SEMESTER 2
Many institutions are still busy making offers to semester 2, 2018 courses. Check the undergraduate, postgraduate and international course searches for a full listing of available courses.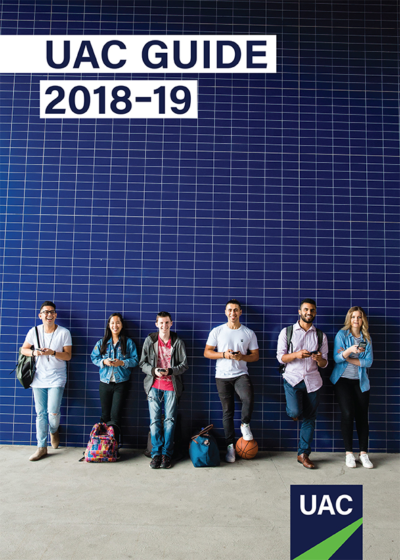 THE WAIT IS ALMOST OVER
Copies of the UAC Guide 2018–19 will be heading out to schools in mid-July. Read more.
ARE YOU AN INTERNATIONAL STUDENT?
The UAC International 2018–19 booklet is for international students applying through UAC. Read more.
GET INTO UNI EARLY WITH SRS
Schools Recommendation Schemes (SRS) are one way institutions make early offers of undergraduate admission to Australian Year 12 students, using criteria other than (or in addition to) ATARs. Read more.
HELP FOR DIFFICULT CIRCUMSTANCES
Educational Access Schemes help students who have experienced long-term educational disadvantage gain admission to tertiary study. Read more.
APPLY FOR A SCHOLARSHIP
Equity Scholarships assist financially disadvantaged students with the costs associated with higher education. Students apply online for an Equity Scholarship through UAC. Read more.
CONFUSED ABOUT THE ATAR?
Watch the video below to learn more about the ATAR, how it's calculated and what it's used for. For more in-depth info about the ATAR, visit our website.
CONNECT WITH US
Keep up-to-date by following us on our socials: Facebook, Twitter, Instagram and Snapchat.
Want a quick answer to a question? Connect with us on Facebook or Twitter, but remember that we need to protect your privacy so we can't discuss specific details about your application online.