You CAN ask that
19 May 2020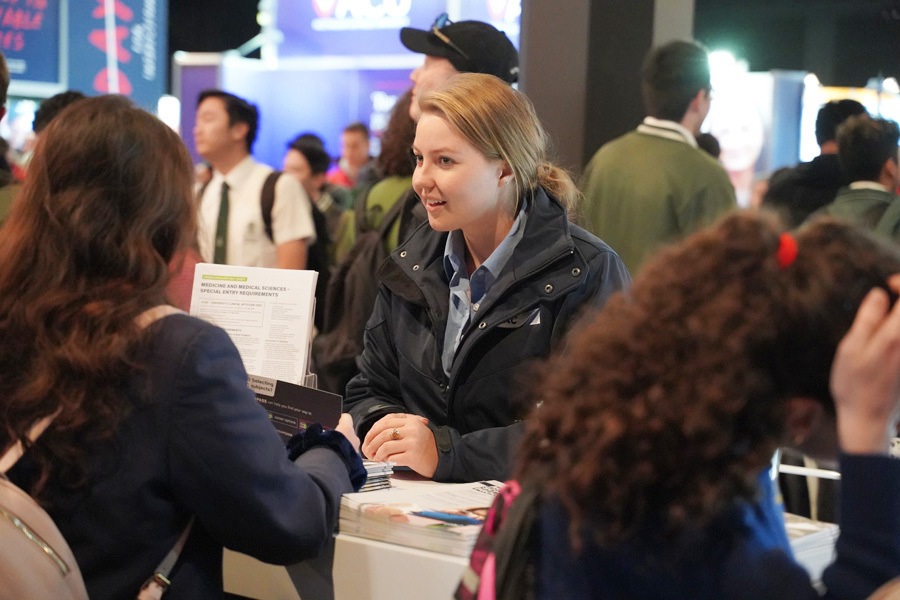 Students and parents ask UAC a vast range of intricate questions about uni admission requirements and processes. But we also answer some challenging questions about why we do what we do. Here are the top five.
1. Why do I have to pay $70 to apply through UAC and why do I have to pay even more if I apply after the end of September?
UAC is not a government department or a university. We are a not-for-profit company and we need to cover the costs of the services we provide to applicants and education providers. Your one-off application fee helps us to, among other things:
operate a centralised application assessment service that allows you to change your preferences as many times as you like
coordinate and administer Schools Recommendation Schemes, Educational Access Schemes and Equity Scholarships
engage with – and produce resources for – students, parents and the wider community, including visiting hundreds of schools throughout NSW and the ACT each year.
The application fee increases after 30 September because we want to encourage you to apply early, get it out of the way before your final exams, and get your Schools Recommendation Schemes application in before the 20 September deadline. From the universities' perspective, they need to start getting an idea of how many applicants there are and what they're applying for.
In addition, most applications submitted after September are from applicants who aren't in Year 12. Assessing these applications is more complicated and costly. The higher fee reflects this.
2. Can't I just apply to the uni and not pay anything?
Yes, you can apply directly to some unis and not pay an application fee. In fact, universities are not permitted to charge domestic students to apply for a course. But by submitting just one application through UAC, you can apply to up to five different universities at any one time. You can also go on to apply for Educational Access Schemes and Schools Recommendation Schemes, which are linked to the UAC application.
Some students keep their options open by applying directly to a university and also submitting a UAC application (with different course preferences).
3. Why do we have to have ATARs? It's so stupid and stressful.
It's true that many students find studying for their HSC stressful and that uni entry can be very competitive. It's also true that universities need a fair, meaningful and efficient way to rank and select students for their courses. They could require all applicants to sit entry tests or to complete long and detailed applications. But the ATAR places students in rank order without requiring any additional testing and can be used as a selection tool by universities all over Australia.
The ATAR has also proved to be a very good indicator of a student's success in the first year of their degree.
So, despite the ATAR receiving a lot of flak, we still have it because it works.

4. Why can't you just use Year 12 results?
Universities need a general measure of your academic ability, and it's impossible to compare the abilities of students who have completed very different HSC subjects. The ATAR calculation removes the differences between patterns of study in the HSC so that students can be compared fairly.
In addition, while universities acknowledge that students with strengths in certain subjects are going to be suited to degrees related to those subjects, they need to be confident that you will cope with a broad range of tertiary study. Every degree requires you to develop skills and knowledge in a number of different areas.
5. Why can't everyone just get an offer to uni and then we wouldn't have to stress?
Giving everyone an offer to uni sounds good in theory but it's logistically and financially impossible for universities and the government to do this. From a student point of view, not everyone is suited to or ready for uni.
Ultimately, there is a competitive element to getting into uni, particularly for high-demand courses like Medicine. Even when the competition for a course isn't strong, you're still required to meet the university's minimum entry standard. The university needs to be confident that you will cope with the demands of tertiary study and have a good chance of succeeding.
Listen to the answers to some more tricky questions: watch the videos of UAC's recent Facebook events:
Kim Paino, UAC General Manager, Marketing and Engagement, answers your questions about the ATAR and applying for uni
Adam Hennessy, UAC Access Officer, explains how Educational Access Schemes and Schools Recommendation Schemes can help you get to uni next year