Year 12 student balances farm chores with HSC study
10 Oct 2018
With StuVac (study vacation) well underway, many Year 12 students are busy preparing for the upcoming HSC. For Year 12 student Maddie Hoath, school holidays are spent balancing study with working on the family farm.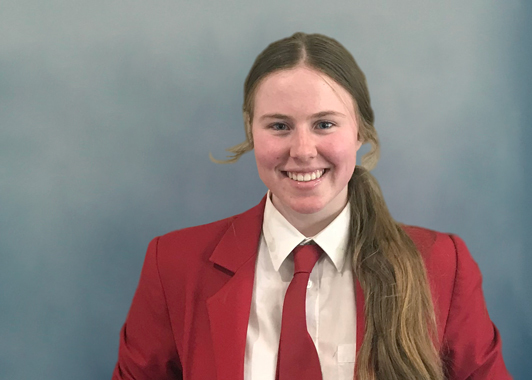 Maddie's ancestors were one of the earliest pioneering families to settle in the town of Walgett, in far northwest New South Wales. Walgett is subject to variable seasonal conditions, and the Hoath family has lived through drought before, but the current dry is the worst in living history.

'This drought has been really tough on my family,' Maddie said. 'We've run out of hay and we can't afford to buy any more, so we're bulldozing trees ... to feed to the cattle.'
Educational Access Schemes (EAS) aim to help students whose education has been negatively affected for a period of at least 6 months during Year 11 and/or Year 12 receive an offer to university.
'For the past few years I've had to sacrifice my school holidays and valuable study time to help on the farm. It's a relief to know that EAS can potentially help me fulfil my dream of going to uni.'
Maddie has her sights set on the Bachelor of Communications at the University of Newcastle. Fortunately, she can apply for UON's Shaping Futures Scholarship for Students Impacted by Drought. For 2019, UON has reserved two Shaping Futures scholarships to help drought-affected students like Maddie with the costs of studying.
For students affected by drought, it's good to know that there's help available:
Charles Sturt University (CSU) has established the CSU Foundation Rural Relief Scholarship, which provides financial assistance to members of farming families or communities whose ability to attend or complete university is being impacted by the current drought conditions.
The Commonwealth Government is offering scholarships to regional and remote students to help them access and complete tertiary STEM qualifications. Find out more about Rural and Regional Enterprise Scholarships.
Details of requirements for individual scholarships can be found on the institution websites. For more information about EAS, visit our website.