Top 5 FAQs for Year 12 students
29 Apr 2020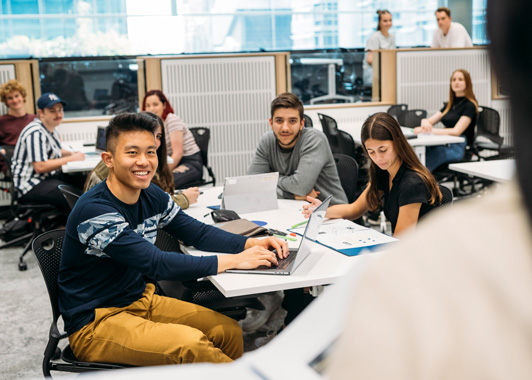 Our circumstances right now are unprecedented, and we know you are worried about how they're going to affect your final year of school and your plans to go to university in 2021.
Over the past few weeks, hundreds of Year 12 students and their parents have called, emailed or messaged us with questions about their ATAR and how universities will select students. No doubt many of you have similar concerns. Here are answers to the top 5 questions we've been asked.
1. How will 2020 HSC and IB students be affected by COVID19?
We're working with universities, NESA, the IB and schools to keep our processes and timelines as normal as possible:
NESA has confirmed that HSC exams will go ahead and you will receive your results in mid-December.
UAC will use your HSC marks to calculate your ATAR, which you'll also receive in mid-December. Please remember that the ATAR is a rank, not a mark, and you will only be ranked against students who have also had their studies disrupted by this pandemic.
The International Baccalaureate is planning to go ahead with exams in November and UAC will convert your overall score to a UAC rank, which is equivalent to an ATAR.
Universities will continue to use the ATAR, along with other criteria (eg auditions, portfolios and interviews where relevant), to select students for their courses.
Universities that have previously considered Year 11 results as part of their assessment of applicants for early entry schemes (eg Schools Recommendation Schemes) will keep doing so.
Universities will continue to select some students (eg Aboriginal and Torres Strait Islander applicants) through specific access schemes.
So continue to study to the best of your ability and we'll let you know if anything changes:

2. Some of the universities have announced that they will be using Year 11 results to make offers. Does that mean my Year 12 results are irrelevant?
Although a couple of universities (The Australian National University and Macquarie University) have announced they will be making offers based on Year 11 results, the majority of universities will still rely on your HSC results and ATAR. We'll work closely with all universities to make sure their selection processes are fair and equitable.
UAC will continue to run Schools Recommendation Schemes, an early offer scheme based on Year 11 results and school ratings of a student's aptitudes and capacity for study.
3. Will the selection ranks needed to get into uni next year go down as a result of COVID19?
As is the case every year, we can't predict what the selection rank for a course will be: it's a matter of supply and demand. It all depends on how many Year 12 applicants there are for the course and how many places are available.
If there is a large number of applicants competing for a limited number of places in a course and those applicants have high ATARs, then the required selection rank will be high. Conversely, if there are many places available in a course and a small number of applicants with a wide range of ATARs, then the selection rank needed to get an offer will be lower.
COVID-19 may, or may not, have an impact on the number of Year 12 students wanting to go to university next year.
4. How does EAS work?
Educational Access Schemes (EAS) can help you get an offer to university if you've experienced long-term disadvantages while studying for your HSC. But there are some important criteria you need to meet first:
The disadvantages must be due to circumstances that are beyond your control or choosing. This means that if you've missed school due to, for example, sporting commitments, this is a choice you have made and you can't claim your sporting commitments as a disadvantage.
Your Year 11 or 12 studies must have been negatively affected by these disadvantages for at least six months.
You must be able to provide documents to support your claim.
There are 25 specific disadvantages that you can claim. Read the definition of each disadvantage before you apply.
At this stage, there is no category of disadvantage specifically related to COVID-19 because the pandemic is affecting every Year 12 student. But we're talking to universities about how we can consider particular existing disadvantages as a result of COVID-19 and we'll let you know if we make any changes.
If you are eligible for consideration under EAS and your ATAR (or equivalent) is below the required selection rank for a course, an institution can:
increase your selection rank for that course (this is called an 'equity adjustment') or
allocate you a place reserved for EAS applicants.
So you won't receive an 'EAS offer'; you will simply receive an offer as part of the standard undergraduate offer rounds.
5. The course I want to apply for is not in the UAC application. Why is that?
We are still waiting for course details from some participating institutions, but they should all be listed in the UAC course search and be able to be selected in the application by 1 August 2020. If you would like to apply before then, you can still submit your application and then change your preferences (for free) when your course is listed.

Just make sure you apply:
before 20 September, when Schools Recommendation Schemes close, or
before 30 September, when early bird applications close and the fee increases.
You CAN ask that!
Have another question? Tune in to our Facebook live event on Wednesday 6 May at 4pm. Kim Paino, UAC's General Manager of Marketing and Engagement, will be ready to answer your tricky questions. Get in early and leave your question on our Facebook page now.