The UAC Guide 2020-21 is available now
18 Mar 2020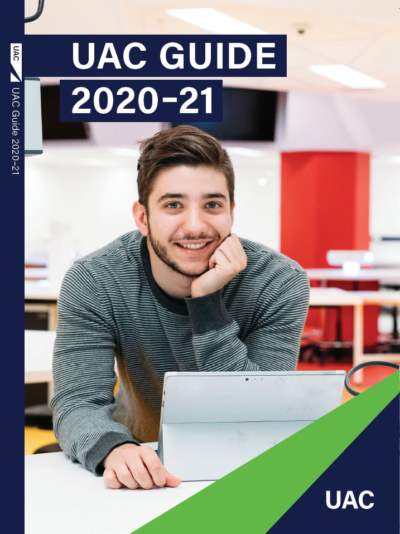 The UAC Guide 2020-21 is the quick and easy way to get to know our 26 participating institutions and over 2,000 courses you can apply for.
The Guide steps you through the ins and outs of how to apply, the admission criteria for courses, and how you get and accept offers to tertiary study.
It also deep dives the ATAR and selection ranks and covers things like financial assistance and course costs.
On Wednesday 1 April we'll be opening applications to study in 2021.
Our site will have detailed course information – more courses will be added as they become available and all course information will be on our website from August.
We'll also have further institution info, including entry schemes, scholarships and financial assistance.
Our site and socials (Facebook / Instagram) are the best ways to stay in the loop about important updates on applying for Schools Recommendation Schemes, Educational Access Schemes and Equity Scholarships through UAC.
Last year, UAC received more than 73,000 domestic applications for undergraduate study in 2019-20!
Year 12 students receive their UAC PINS and applications open on Wednesday 1 April – apply early and you'll have more time to reorder your course preferences, explore your options, and prepare for 2021.
Get in touch if you have any questions or need some advice.
Download the UAC Guide 2020-21 from our Publications section.
Discover a range of resources.
Check out important key dates.