New nursing courses coming to Sydney's CBD in 2021
30 Oct 2020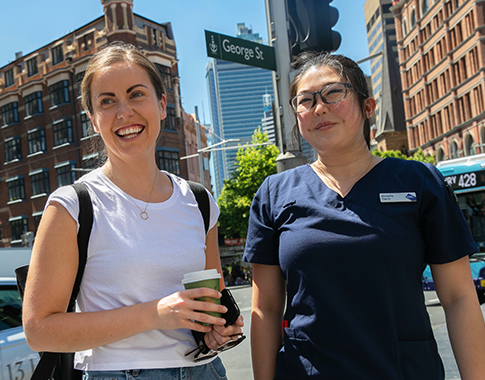 As the world continues to focus on the critical healthcare workforce, so too does Charles Darwin University (CDU).
CDU is expanding its range of specialised undergraduate and postgraduate nursing and health courses offered at its Sydney CBD location.
'CDU has a campus opposite Sydney's Central Station and, in 2021, we will use this space to focus on equipping Sydney's critical healthcare workforce with new skills,' says Professor Catherine Turner, Dean at CDU's College of Nursing and Midwifery. She is spearheading the refreshed course offering in Sydney.
'CDU Sydney campus is now known as the CDU Sydney Health Precinct, and we will be offering eight specialised undergraduate and postgraduate nursing and health degrees to Australian and international students.
'This includes courses in mental health, dementia studies, health services management and midwifery, as well as degrees to qualify as a nurse.
'Whether you want to become a nurse, or you are a nurse in Sydney who wants to upskill with postgraduate study, the CDU Sydney Health Precinct offers supportive, industry-relevant and convenient learning.
'The class sizes are small, which allows for lots of 1:1 time with teaching staff. And being on George Street, over the road from Sydney's Central Station, makes for really convenient access to campus,' says Professor Turner.
The Precinct is also home to a state-of-the-art clinical simulation suite for nursing students to practise their newly-acquired skills, as well as modern learning spaces and a library.
Open to on-campus and online students
CDU's Sydney Health Precinct is a dual-purpose space for students who wish to study a nursing degree on campus in Sydney, as well as Sydneysiders who are studying nursing online with CDU and would like access to a learning space. There are courses available for both Australian and international students.
'We know that for some of our online nursing students living in Sydney, a quiet place to study away from home or their workplace is valued. They are welcome at the CDU Sydney Health Precinct.
'For those students who want to study on campus, the experience is unrivalled when it comes to student support.
'Class sizes at the Sydney Health Precinct are small and inclusive, which means easier access to the teaching staff and more collaborative learning with classmates. Students also have access to all of CDU's support services, including dedicated 24/7 IT support, library services and student support,' says Professor Turner.
Delivering employment outcomes
'We teach more than 4,000 Australian and international nursing students at CDU – both online and across our campuses. Our graduates are highly skilled and sought after,' says Professor Turner. '95% of our undergraduate and postgraduate students find employment when they graduate' (according to the 2017 to 2019 Graduate Outcomes Survey by QILT).
'CDU has also been ranked by the Good Universities Guide as the number two university in Australia for graduate employment and salary outcomes.'
Although CDU is located in the Northern Territory, it delivers degrees across Australia through flexible, online learning and at 11 different campuses and training centres. CDU teaches more than 24,000 students from more than 69 nationalities.
Learn more about CDU's nursing and health courses in Sydney.

This article is sponsored by Charles Darwin University.