Open days: a glimpse of the future
25 Jul 2019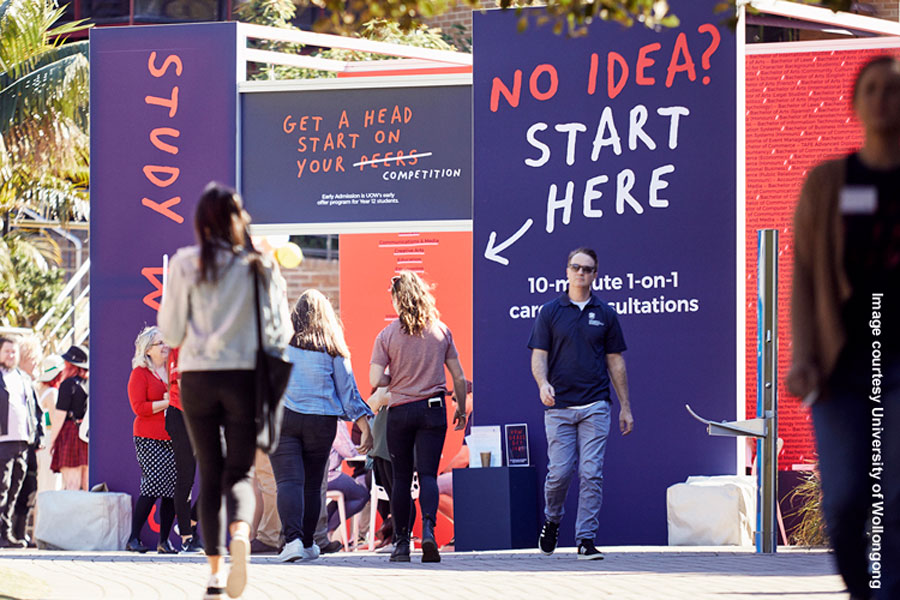 Renee Desrets is the Careers Adviser at Woolooware High School in Sydney. After five years advising senior students on their steps after high school, she says the only way to really get to know the look and feel of the environment is to be on campus; that is, to attend an open day. 'You need to see it and feel it,' she says

'Every campus is different. You'll be there three or more years,' she explains, 'so it's important that you enjoy not only the course you are studying but also where you are studying.' Her advice is to ask yourself: 'Does this learning environment feel right for me as an individual?'
Having a face-to-face conversation and asking one-on-one questions in person is another reason why open days are so valuable.
In Renee's experience, going to open days eliminates student misconceptions.
It's also less awkward for students than having a conversation over the phone, she believes. 'You can walk past a stand at an open day and discover a course that you didn't know about. Or stop with a friend, overhear their conversation, and be surprised by what you find out.'
Dana Bewick attended open days at two institutions that were on her shortlist: UTS and ANU.
'As well as the look and feel of the campus, I found that finding out the details of the actual course from the people who ran it was really helpful. You can read information online but I found meeting people, asking questions and clarifying things was very helpful.' Dana is now in her first year of science at ANU.
This experience is particularly helpful if you're not sure about what you want to do. 'For students who are doubting their own abilities, or undecided about going to university, it gives them the confidence that university is achievable,' Renee says. 'It shows them that they can do it, that it's less scary then they thought and that, actually, it can be a whole lot of fun.'
At open days, institutions run information sessions, tours and activities, and social clubs pitch for new members and sessions.
Dana says what she found most helpful in her final decision was attending talks from course convenors and course lecturers. 'I figured that they're teaching style was similar to the way they presented on the day,' she said. 'The courses that appealed were the ones where I thought the way they spoke was interesting and I wanted to be there.'
All of Renee's students who attend an open day come back excited about the future. 'They get a feeling of the next level of learning and freedom.'
Find an open day to attend at one of UAC's participating institutions.