Invest in your future with postgraduate study
05 Sep 2018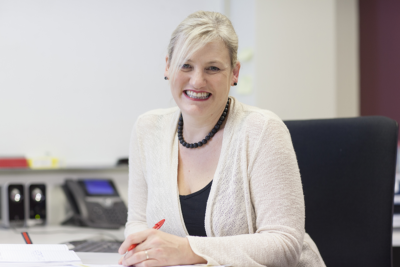 Last year over 6,000 people applied for postgraduate study through UAC.
A postgraduate degree offers many benefits, including increased earnings, job satisfaction and career advancement. Just ask Penny Millgate.
Following an undergraduate degree in management and a graduate certificate in counselling, Penny signed up for a Masters of Business Psychology – and was surprised at the results.
For Penny, the biggest benefit of taking on a masters was the self-development that took place during her studies. 'As my knowledge was enriched, my thought process changed,' Penny says. 'I began to focus on workplace behaviours like collaboration and recognition rather than hard skills.'
Penny recently landed a leadership role with the help of her degree. 'The position description listed postgraduate qualifications as highly desirable, so I was well-positioned from the onset,' Penny said. She now manages a team of twelve staff.
Postgraduate students often juggle study with work and family commitments. When Penny began her masters, her son was starting school. 'I had to think carefully about the logistics of it all,' Penny says. 'I became meticulous at planning and scheduling.'
For those considering postgrad study, Penny has this advice: 'Make sure you study something you're interested in, then go for it! Education is a special thing everyone should have access to.'
Invest in your future and apply now.