3 simple steps to HSC subject selection
25 Jun 2020
If you're in Year 10, your teachers have no doubt started talking to you about choosing your HSC subjects. You've probably also been given advice from older friends or family members who have already completed the HSC. It can sometimes get a bit overwhelming, but these practical steps will help:
Identify your end goal: Make the link between your choices now and where you want to go after Year 12. Is there a chance you'll want to study at uni? If so, make sure you'll be eligible for an ATAR. Even though some uni courses don't use the ATAR to select students, many do.
Consider your abilities and interests: You are far more likely to do well in subjects you're good at and interested in. Don't choose courses just because of scaling or because you think they will give you a better ATAR.
Research your study options: If you're thinking of going to uni, check if the courses you're interested in have prerequisites and assumed knowledge – Steps to Study for Year 10 Students [PDF] has all this info.
Mackensie Daley and Edward Wilson are working their way through these steps right now.
Mackensie Daley, 15, NSW Central Coast
Mackensie and her classmates don't need to make their subject selections until term 3, but they've been given resources and lots of advice on what they need to think about.
'We've had a few lessons and watched some videos, and many of the senior school teachers are coming around to our classes and recommending what we could do. They've recommended that those of us in the top maths class take Mathematics Advanced or Mathematics Standard 2, and in English they've also recommended the Advanced course.'
Mackensie has a wide range of interests. She comes from a family of animal lovers and has always had dogs and cats – she even bred rabbits for a time – and after a stint working at a trail riding centre, she now has her own horse.
While volunteering at the trail riding centre she fed, groomed and saddled the horses, led rides and dealt with customers, as well as looking after a menagerie of pets around the place, including a host of puppies, which she loved.
She also has younger cousins who she enjoys babysitting, so her thoughts about her future career are broad:
I'm in two minds: I want to do either vet science or childcare. I'm leaning towards the science subjects, which will be good if I choose vet science, as well as advanced maths. There's also Community and Family Studies, but I don't know where I'll go from there.
One thing Mackensie and her classmates are still struggling with is the idea of course units. 'Some courses are 2 units and some are 1 unit – I'm still trying to wrap my head around it.'
As a regional student, Mackensie is open to attending any uni that is the right fit. 'I could travel to Sydney where there are lots of institutions to choose from, or I can stay local,' she says.
With many options open to her, Mackensie is sure to succeed in whatever path she chooses to take.
Edward Wilson, 16, Sydney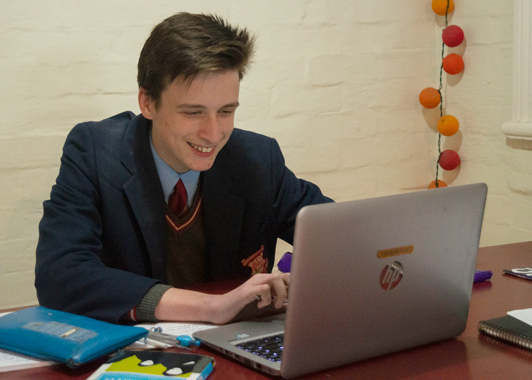 When it comes time to choose his HSC subjects next term, Edward will be placing Modern History at the top of his list.
I've always been interested in history. Everything you learn is relevant to what's going on in the world today.
Other than that, he will simply be looking to choose a broad range of subjects that are connected to his interests. However, he does face some restrictions.
Edward would like to study English Advanced, but his school requires him to be positioned in the top quartile for English in his mid-year results, which are coming out soon. Although he is a capable student, he is not sure he will achieve this.
He is more confident when it comes to selecting Mathematics Advanced as he is completing the highest mathematics course this year.
Like many students across the state, Edward has discovered that his school does not offer all the subjects he's interested in. With travel and living in other countries part of his future plans, he'd like to study a Beginners language course, but he'd need to study this externally. The same applies to Drama.
Luckily for Edward, he also likes science and computing, and his school offers the full range of courses in these areas.
Although he doesn't have a specific degree in mind, Edward is planning to go on to university after school. Therefore, he will be making sure he chooses HSC courses that will lead to an ATAR. He's used UAC's Subject Compass tool to mix and match different courses and make sure he is on the right track:
I really liked the way Subject Compass listed all the units and confirmed I would be eligible for an ATAR. It's reassuring to see it all written down and keep a record.
Resources
Subject Compass: an online tool to help you find HSC courses that match your interests, abilities and future plans
Steps to Uni for Year 10 students [PDF]: our annual publication that sets out HSC courses the unis require you to have studied to be able to start a degree, or recommend you study in order to set you up for success
Top Tips for Choosing HSC Courses [PDF]: a checklist of what to keep in mind when making decisions about the HSC